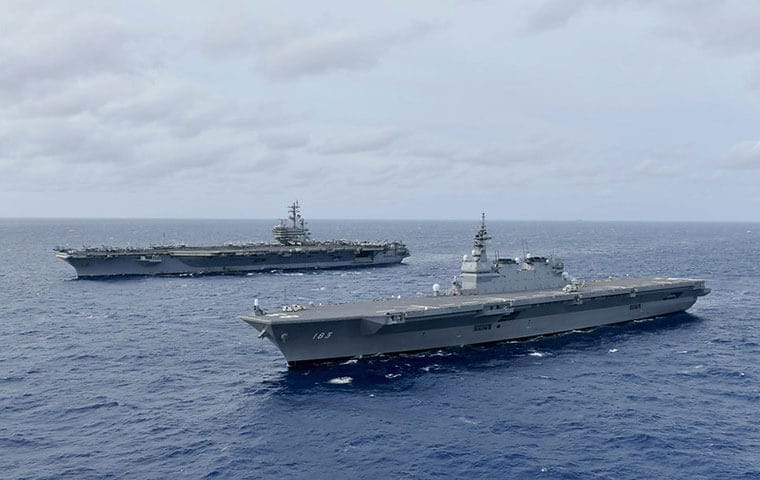 While the Navy is working to counter a more formidable Chinese Navy and aggressive stance, Congress must determine if the Navy's actions are a sufficient response, according to a July 30 report by the non-partisan Congressional Research Service (CRS).
The white paper, entitled China Naval Modernization: Implications for U.S. Navy Capabilities – Background and Issues for Congress, points out that China has undertaken a significant modernization effort during the past 25 years. The results are bearing fruit, in the form of a "formidable military force" able to project power in the Indian Ocean, and waterways around Europe. Also, the Chinese navy is now in a position to "challenge … the U.S. Navy's ability to achieve and maintain wartime control of the blue-water ocean areas of the Western Pacific – the first such challenge the U.S. Navy has faced since the end of the Cold War."
China has bolstered its fleet with the addition of a host of new weapons systems, the CRS stated. Its navy now can deploy anti-ship ballistic missiles (ASBMs), anti-ship cruise missiles (ASCMs), submarines, surface vessels, aircraft and unmanned vessels. All are by significant C4ISR (command, control, communications, computers, intelligence, surveillance and reconnaissance) systems.
The report stated that China is particularly focused on taking action against Taiwan if necessary. Flexing its muscles in the strategic regions of the South China Sea also figures prominently. In particular, China is moving aggressively to enforce its assertion that Taiwanese waters are included in the mainland's 200-mile maritime exclusive economic zone.
"Observers believe China wants its navy to be capable of acting as part of a Chinese anti-access/area denial (A2/AD) force … that can deter U.S. intervention in a conflict in China's near-seas region over Taiwan or some other issue," the report stated.
If those goals cannot be met, China still intends to place its navy in a position where it could "delay the arrival or reduce the effectiveness" of U.S. forces as they move into the theater to mitigate any aggressive actions.
China's navy also wants to be in position to conduct maritime security actions such as antipiracy, evacuate its citizens from areas where they may become threatened, or engage in humanitarian and disaster-relief missions, according to CRS.
The report cited U.S. Navy efforts to shift more assets to the Pacific theater, including the newest and most-capable ships and best-trained personnel there. Operations and exercises either have kept at a steady pace or increased, CRS stated, often with the inclusion of partner and other navies in the region. It also cited plans to increase the number of smaller ships, improve weapons systems and embrace new operational concepts."The issue for Congress is whether the U.S. Navy is responding appropriately to China's naval modernization effort," the report stated.